If you'd like to rent a roll-off dumpster for home or for a commercial location in Pierce County, from Fife to Lakewood, Spanaway, South Hill to Bonney Lake, here's how it works…
Whether it's single haul or multiple haul, long-term or temporary dumpster rental for cleanups, call the team here at Hoss.
Let's quickly discuss…
Dumpster Size/Capacity Options
Dumpster Rental Prices
Rental Duration Options
A roll-off or roll-away dumpster is the most common type of dumpster for residential and commercial use.
A roll-off dumpster is suitable for large pickups such as:
Renovation materials
Yard waste
Old equipment
Concrete, bricks, pavers, tiles
Old or damaged furniture
Construction materials
Demolition materials
Scrap metal
Spa or hot tub removal
Old roofing or fencing
Tree trimming, tree removal
Event waste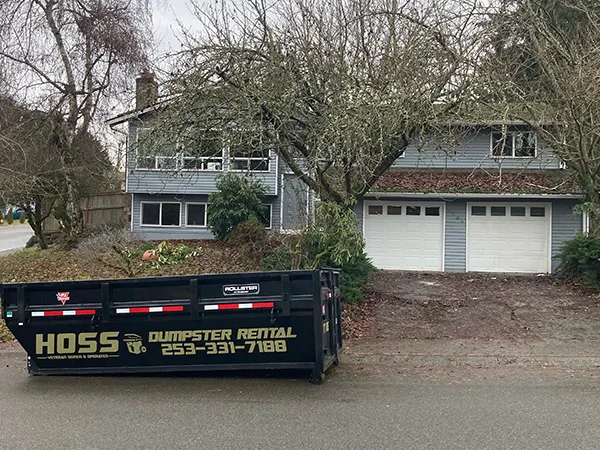 Book A Dumpster Rental
We'll Drop Off A Dumpster On Your Chosen Date
We'll Pick It Up And Dispose Of The Contents At No Extra Cost
We offer the two most commonly used sizes of dumpsters which are a 14 yard dumpster and 20 yard dumpster.
These allow for small, medium and large dumping of waste from either your home or commercial premises.
Just about any type or size of waste materials will fit inside these size dumpsters.
14 Yard Roll-Off Dumpster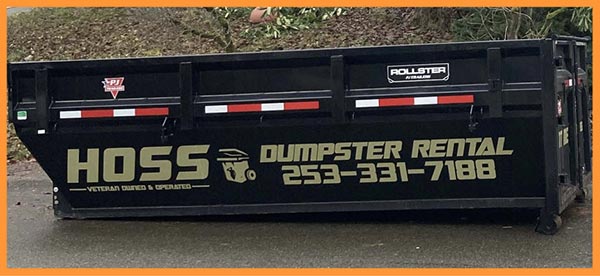 Ideal For: Heavy and compact materials, eg. bricks, concrete, metals.
20 Yard Roll-Off Dumpster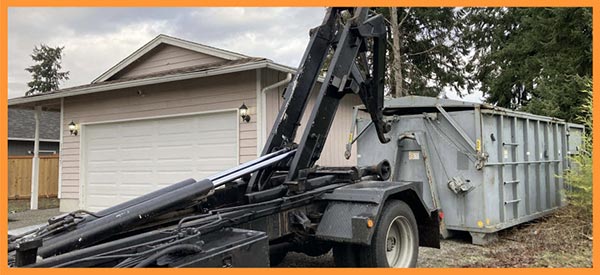 Ideal For: Heavy hauls of compact items from home/garage clean-outs, building materials.
BEST EXPERIENCE EVER! Jeremy was so quick to respond to our request for a dumpster rental. Brought it out the same day. He asked about our needs and gave us great options. Pick-up was a breeze. I'm so grateful we found his local company who supports the local communities. Look no further if you need a dumpster to rent. You won't regret your decision!!! THANK YOU Jeremy!!!
-- Stephanie
Residential Dumpster Rental
If you'd like to dispose of old unwanted items like furniture, yard waste/debris, remodelling materials, damaged items, broken kids stuff or just about anything else around the house, a roll-off dumpster is a quick, easy and affordable solution.
Whether you live in an apartment building, townhouse, detached house or otherwise, we can position the dumpster in a safe and convenient place for easy drop off and pickup.
You can hire a dumpster from as little as a few hours, a full day, several days or longer.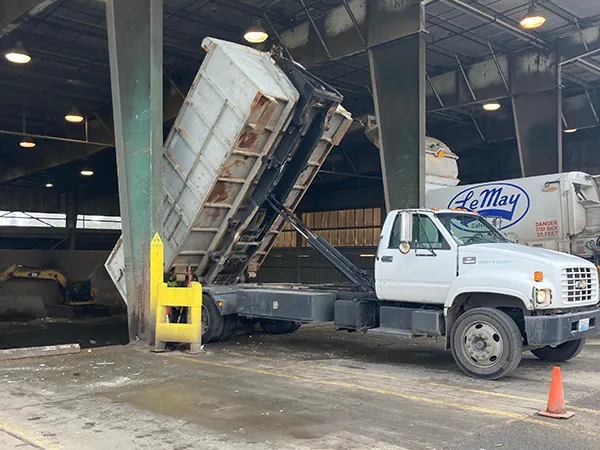 Commercial Dumpster Rental
If you're having an office cleanout, fitting out a new office or remodelling an existing one and would like to dispose of materials and waste safely, sustainably and conveniently, a short-term dumpster rental is a popular solution.
For commercial dumpster rental in Pierce County, we will drop off the dumpster in a location of your choosing then pick it up on the day at time you specify. Disposal fees are $200/ton.
We handle it all, you just have to toss your trash into the dumpster and we do the rest.
Construction Dumpster Rental
If you own a building company or large construction company, an on-site dumpster is essential.
To rent a construction dumpster in Pierce County for either residential construction sites or commercial construction sites, talk to us today.
If you have a demolition project and need a dumpster for multiple trips to the dump, we can arrange each drop off and pickup on the dates and times of your choosing.
Whether it's a house demolition, large renovation or other large or small demolition, you can rent a demolition dumpster from as little as $350 for 5 days.
Industrial Dumpster Rental
If you have a need to dispose of waste from an industrial manufacturing project and no vehicle to haul it away with yourself, our dumpsters could be a great fit for this as well.
Dumpsters are a great done-for-you solution to trash removal and are affordable too.
Whatever your budget, our two dumpster sizes should suit your needs at the right price…
14 Yard Roll-Off Dumpster
20 Yard Roll-Off Dumpster
THIS PRICE INCLUDES:
1. Dumpster Drop off
2. Dumpster Pickup
Disposal of waste is $200 per ton.
If you've searched 'cheapest dumpster rental near me' and are looking for a local, reliable company who turns up on time every time, call Hoss at
Working with Hoss Dumpster Rental was a great experience. They worked with my hectic work schedule and were accommodating to any questions I had. They also ask a very fair price for the services they provide. Definitely would use this company again!
-- Max
Short Term Vs Long-Term Dumpster Rental
A dumpster is a convenient way to get rid of waste around your home or commercial premises.
Short-term (Hours or Days) - suitable for quick disposal jobs after a cleanout.
Long-term (Weeks or Months) - the longer you rent the dumpster for, the cheaper it gets.
In some cases we can offer same-day drop off if you've left it to the last minute or you have an emergency pickup.
What is a roll-off dumpster?
A roll-off (or roll-away) dumpster is a rectangular shaped welded-steel container with an open top.
They're designed to hold just about any type of waste, rubbish or debris and can be dropped off and picked up for short-term or long-term rental.
What size dumpsters can I rent?
You can rent two sizes of dumpsters from Hoss, 14 yard or 20 yard. It will be dropped off and picked up at a day and time of your choice.
What items can't go in a dumpster?
There are number of prohibited or restricted items that cannot be put into a rental dumpster, these include:
Household cleaners
Food waste
Flourescent lightbulbs
Oils
Fuels/Gasoline
Gas/Propane tanks
Paint and lacquers
Freon
Car batteries
Adhesives
Tires
Hot water tanks
Asbestos
Toxic wastes
Corrosive wastes
Flammable/Ignitable waste
Biohazardous waste
Infectious waste
Reactive waste/Radioactive material
Medical waste
How much does it cost to rent a dumpster?
Rental cost will vary depending on the duration of your rental, whether it's a few hours or a few weeks or months. Prices start from $350 for 5 days.
2367 Tacoma Ave S, Tacoma, WA 98402