No one should be left to deal with junk removal alone. Hoss Junk Removal is Pierce County's premier Tacoma junk removal company. We will do the heavy lifting for you when it comes to removal, making it easy for you to get rid of old and unneeded items. Hoss Junk specializes in large appliance disposal, electronic recycling, and taking away excess trash.
Our professional junk haulers are strong and equipped employees that treat each and every customer like a friend. Hoss junk removal has the utmost respect for Tacoma home and business owners. No matter what you're getting rid of, we have the capability to deliver high-end quality service.
Tacoma Junk Haulers
Hiring a team of Tacoma junk haulers will make your life so much easier. You won't have to deal with possible injuries while moving heavy couches or refrigerators. Hoss junk removal can also save you money for any hauling and removal job. Disposing of large items yourself often requires renting a dumpster from the city or paying a fee at the county dump.
Call our expert junk haulers for an immediate quote on removal, and we can also schedule to come out and remove your junk at your convenience. Let us do the heavy lifting and haul your things away. Tacoma homeowners have enough to worry about when it comes to maintaining their homes. That's why we want to make it easy to clear out electronics that need to be recycled or large appliances requiring special disposal due to chemicals or materials.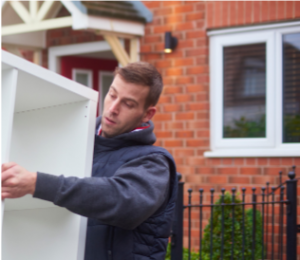 Local Junk Haulers
Hoss Junk serves the local Seattle, Puyallup, Tacoma areas with multiple hauling service locations near you. Our hauling service not only will save you from injury and stress, but it will also lead you in the right direction when it comes to knowing where to dispose of your junk. Our team of Tacoma junk haulers knows how and where to deposit any type of junk, and these hauling services are available to you!
Old possessions are simply taking up space in your home and life. Local junk haulers are the perfect solution for cleaning out your home and making way for new memories. Call us for residential or commercial junk removal for your family or business today!
Cleaning out your home is not just a 'Spring Cleaning' activity. Tacoma homeowners call Hass junk removal year-round for quality disposal and removal services.
Call today!